Swiss Chalet is a Canadian franchise of casual eateries. The first swiss chalet restaurant opened its doors in 1954 in Toronto, Ontario at  234 Bloor Street West.
This original eatery was situated on a popular roadway near to Varsity Stadium.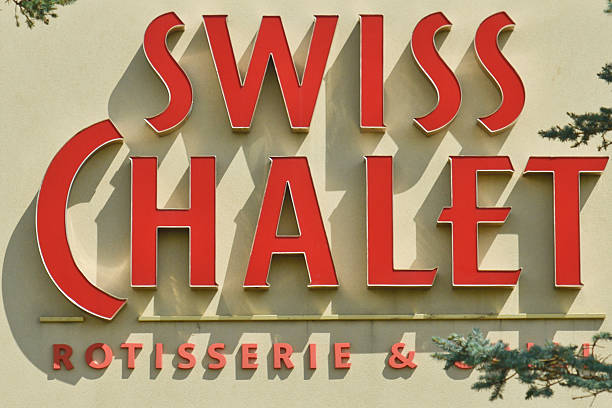 Whether you are celebrating a graduation, enjoying a family supper after a hockey game or inviting non-Canadian friends out for dinner – odds are you show up at your local Swiss Chalet.
---
Related: Burger King Menu Prices in Canada
---
Swiss Chalet Menu Prices in Canada
Swiss Chalet Appetizers Menu Prices in Canada
| Menu Items | Prices |
| --- | --- |
| Ultimate Perogies | $8.49 |
| Cheese Perogies | $7.49 |
| Chicken Spring Rolls | $7.49 |
| Four Cheese Spinach Dip | $9.49 |
| Stuffed Garlic Cheese Loaf | $7.49 |
| Swiss Appetizer Platter | $15.49 |
| Wings 5 Pc | $6.49 |
| Wings 10 Pc | $12.49 |
| Wings 15 Pc | $16.19 |
Swiss Chalet Soups and Salads Menu
| | |
| --- | --- |
| Chalet Chicken Soup Cup | $4.49 |
| Chalet Chicken Soup Bowl | $5.49 |
| Garden Salad | $5.99 |
| Kale Caesar Salad | $5.99 |
Swiss Chalet Chicken Menu
| | |
| --- | --- |
| Crispy Quarter Chicken | $11.99 |
| Crispy Third Chicken | $16.99 |
| Quarter Chicken & Shrimp Dinner | $15.49 |
| Dark Meat Dinner | $13.49 |
| White Meat Dinner | $13.49 |
| Half Chicken Dinner | $14.99 |
| Chicken Pot Pie | $13.49 |
| Add Poutine | $1.99 |
| Add Chicken Poutine | $3.98 |
| Add Sweet Potato Fries | $2.99 |
Rib Entrees
| | |
| --- | --- |
| 1/3 Rack BBQ Side Ribs | $14.99 |
| Half Rack BBQ Side Ribs | $19.49 |
| Half Rack BBQ Back Ribs | $20.49 |
| Full Rack BBQ Side Ribs | $25.49 |
| Full Rack BBQ Back Ribs | $27.49 |
Chicken and Beef Combo
| | |
| --- | --- |
| Rotisserie Beef and Quarter Chicken Combo | $15.49 |
| Add Mushrooms | $0.99 |
Chicken and Ribs Combo
| | |
| --- | --- |
| Quarter Chicken & 1/3 Rack BBQ Side Ribs | $17.99 |
| Quarter Chicken & Half Rack BBQ Side Ribs | $22.99 |
| Quarter Chicken & Half Rack BBQ Back Ribs | $23.99 |
Ribs and Beef Combo
| | |
| --- | --- |
| 1/3 Rack Side Ribs and Rotisserie Beef Combo | $18.99 |
| Half Rack Side Ribs & Rotisserie Beef Combo | $23.49 |
| Half Rack Back Ribs & Rotisserie Beef Combo | $24.49 |
Ribs and Wings Combo
| | |
| --- | --- |
| 1/3 Rack BBQ Side Ribs & 5 Wings | $16.99 |
| Half Rack BBQ Side Ribs & 5 Wings | $21.99 |
| Half Rack BBQ Back Ribs & 5 Wings | $22.99 |
Family Packs
| | |
| --- | --- |
| Crispy Chicken Family Pak | $35.99 |
| Family Pak | $29.99 |
| Deluxe Family Pak | $44.99 |
| Chicken & Side Ribs Family Pak | $39.99 |
| Chicken & Back Ribs Family Pak | $40.99 |
| Chicken & Wings Family Pak | $39.99 |
Beef Entrees
| | |
| --- | --- |
| 7 oz. Rotisserie Beef Dinner | $15.99 |
| 10.5 oz. Rotisserie Beef Dinner | $20.99 |
| Rotisserie Beef Kaiser | $13.49 |
| Hot Rotisserie Beef Sandwich | $15.49 |
| Add Swiss Cheese | $0.99 |
Party Packs
| | |
| --- | --- |
| BBQ Side Ribs & Wings Party Pak (10 Wings) | $30.99 |
| BBQ Side Ribs & Wings Party Pak Deluxe (20 Wings) | $39.99 |
| BBQ Back Ribs & Wings Party Pak (10 Wings) | $32.99 |
| BBQ Back Ribs & Wings Party Pak Deluxe (20 Wings) | $41.99 |
Sandwiches
| | |
| --- | --- |
| Chicken Caesar Wrap | $12.99 |
| Rotisserie Chicken on a Kaiser | $12.99 |
| Rotisserie Chicken Club Wrap | $12.99 |
| Classic Hot Chicken Sandwich | $12.99 |
| Add Swiss Cheese or Mushrooms | $0.99 |
| Substitute White Meat | $1.80 |
Pasta and Stir Fry
| | |
| --- | --- |
| Teriyaki Rotisserie Chicken Stir-Fry | $16.99 |
| Teriyaki Rotisserie Shrimp Stir-Fry | $19.48 |
| Teriyaki Rotisserie Chicken & Shrimp Stir-Fry | $21.48 |
| Teriyaki Stir-Fry | $14.99 |
| Rotisserie Beef Stir-Fry | $17.99 |
| Rotisserie Beef & Shrimp Stir-Fry | $22.48 |
Burgers
| | |
| --- | --- |
| Classic Hamburger | $12.99 |
| The Ultimate Bacon Cheeseburger | $14.99 |
| Classic Veggie Burger | $13.99 |
| Add Cheddar or Swiss Cheese | $1.00 |
Weight Watchers Healthy Entrees
| | |
| --- | --- |
| WW Quarter Chicken White Meal | $13.49 |
| WW Quarter Chicken Dark Meal | $11.69 |
| WW Double Leg | $13.49 |
| WW Half Chicken | $14.99 |
| WW Spinach Chicken Salad | $14.49 |
| WW Chicken on a Kaiser | $14.79 |
Weight Watchers Healthy Sides
| | |
| --- | --- |
| WW Chicken Noodle Soup (Cup) | $4.49 |
| WW Chicken Noodle Soup (Bowl) | $5.49 |
Sides
| | |
| --- | --- |
| Garlic Green Beans | $2.99 |
| Parmesan Fries | $2.99 |
| Fresh Cut Fries | $2.99 |
| Large Fries | $6.99 |
| Poutine | $4.48 |
| Poutine with Chicken | $6.47 |
| Oven Baked-Potato | $2.99 |
| Creamy Mashed Potatoes | $2.99 |
| Sweet Kernel Corn | $2.99 |
| Seasoned Rice | $2.99 |
| Creamy Coleslaw | $2.99 |
| Jasmine Rice | $2.99 |
| Sweet Potato Fries | $3.98 |
| Garlic Shrimp without Entree (8 Pc.) | $7.49 |
Kids Meal
| | |
| --- | --- |
| Kids Cheesy Pizza | $7.99 |
| Kids Chicken Strips | $7.99 |
| Kids Mini Burgers (2 Pc.) | $7.99 |
| Kids Mini Cheeseburgers (2 Pc.) | $7.99 |
Desserts
| | |
| --- | --- |
| Berry Blossom | $5.99 |
| Mini Cinnamon Sugar Donuts | $6.99 |
| Classic Apple Pie | $5.29 |
| Perfect Pecan Pie | $5.29 |
| Lemon Meringue Pie | $5.29 |
| Coconut Cream Pie | $5.29 |
| Classic Vanilla Cheesecake | $5.99 |
| Classic Fudge Cake | $5.99 |
| 2 Slices of Apple Pie | $6.00 |
Beverages
| | |
| --- | --- |
| 2 Bottles of Pop | $3.50 |
| 4 Bottles of Pop | $6.00 |
| Pepsi, Diet Pepsi, 7UP, Mountain Dew, Orange Crush, Ginger Ale, Lipton Brisk Iced Tea or Mug – Root Beer (Bottle) | $1.99 |
| Aquafina Water (Bottle) | $1.89 |
| Brisk Lemonade (Bottle) | $1.99 |
| Lemon Lemon | $1.99 |
| Dole Apple or Orange Juice (Bottle) | $2.49 |
| Pure Leaf Iced Tea (473ml Bottle) | $2.99 |
Sauces
| | |
| --- | --- |
| Chalet Dipping Sauce (4 oz.) | $0.49 |
| Chalet Dipping Sauce (12 oz.) | $0.79 |
| Home-Style Gravy (4 oz.) | $0.49 |
Salad Dressings
| | |
| --- | --- |
| Chalet House Dressing (1.5 oz.) | $0.79 |
| Balsamic Vinaigrette (1.5 oz.) | $0.79 |
| Buttermilk Ranch (1.5 oz.) | $0.79 |
| Mighty Caesar (1.5 oz.) | $0.79 |
| Fat-Free Italian (1.5 oz.) | $0.79 |
| Fat-Free Raspberry Vinaigrette (1.5 oz.) | $0.79 |