Pizza is a favorite food of all people, and Canadians are no exception. In Canada's Great White North, there are 330 Pizza Hut locations to choose from.
If you like eating at Pizza Hut, you'll enjoy the Pizza Hut Canada hidden menu, which is available only to customers.
When you cross the border, you don't have to limit yourself to the traditional Pizza Hut menu; you may experiment with a variety of new foods.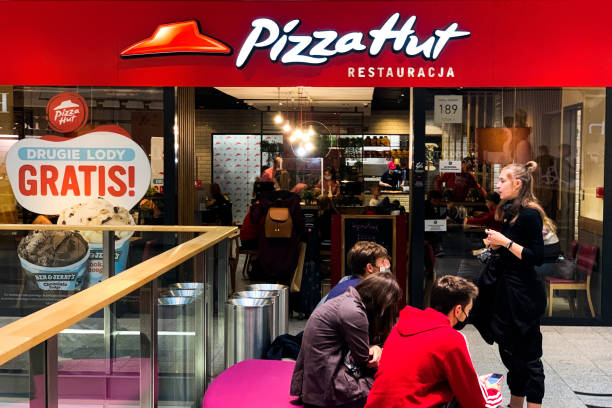 You need to be aware of these orders if you want excellent toppings, unique beverages, or a fantastic new side dish to put your senses on fire.
Though you may be acquainted with your favorite Pizza Hut dishes, have you ever tried anything from the hidden menu? 
Here are the most recent Pizza Hut menu pricing and suggestions to help you uncover the best-kept secrets at your local Pizza Hut in Canada!
---
Related: Harvey's Menu Prices in Canada
---
Pizza Hut Menu Prices in Canada
Cheese Pizza
| | |
| --- | --- |
| Hand-Tossed Medium | $11.99 |
| Hand-Tossed Large | $14.99 |
| Pan Pizza Personal | $4.79 |
| Pan Pizza Medium | $11.99 |
| Pan Pizza Large | $14.99 |
| Thin N Crispy Medium | $11.99 |
| Thin N Crispy Large | $14.99 |
| Stuffed Crust Large | $16.99 |
| Skinny Slice Large | $14.99 |
New Recipe Pizzas
| | |
| --- | --- |
| Garden Party (Thin N Crispy) Medium | $11.99 |
| Garden Party (Thin N Crispy) Large | $14.99 |
| Old Fashioned Meatbrawl (Pan Pizza) Personal | $4.79 |
| Old Fashioned Meatbrawl (Pan Pizza) Medium | $11.99 |
| Old Fashioned Meatbrawl (Pan Pizza) Large | $14.99 |
| Cock-a-doodle Bacon (Hand-Tossed) Medium | $11.99 |
| Cock-a-doodle Bacon (Hand-Tossed) Large | $14.99 |
| Hot and Twisted (Hand-Tossed) Medium | $11.99 |
| Hot and Twisted (Hand-Tossed) Large | $14.99 |
| Pretzel Piggy (Hand-Tossed) Medium | $11.99 |
| Pretzel Piggy (Hand-Tossed) Large | $14.99 |
| BBQ Bacon Cheeseburger (Hand-Tossed) Medium | $11.99 |
| BBQ Bacon Cheeseburger (Hand-Tossed) Large | $14.99 |
| Giddy-Up BBQ Chicken (Hand-Tossed) Medium | $11.99 |
| Giddy-Up BBQ Chicken (Hand-Tossed) Large | $14.99 |
| Buffalo State of Mind (Hand-Tossed) Medium | $11.99 |
| Buffalo State of Mind (Hand-Tossed) Large | $14.99 |
| Cherry Pepper Bombshell (Thin N Crispy) Medium | $11.99 |
| Cherry Pepper Bombshell (Thin N Crispy) Large | $14.99 |
| 7-Alarm Fire (Hand-Tossed) Medium | $11.99 |
| 7-Alarm Fire (Hand-Tossed) Large | $14.99 |
Classic Recipe Pizza
| | |
| --- | --- |
| Pepperoni Lover's Pizza (Hand-Tossed) Medium | $11.99 |
| Pepperoni Lover's Pizza (Hand-Tossed) Large | $14.99 |
| Pepperoni Lover's Pizza (Pan Pizza) Person | $4.79 |
| Pepperoni Lover's Pizza (Pan Pizza) Medium | $11.99 |
| Pepperoni Lover's Pizza (Pan Pizza) Large | $14.99 |
| Pepperoni Lover's Pizza (Thin N Crispy) Medium | $11.99 |
| Pepperoni Lover's Pizza (Thin N Crispy) Large | $14.99 |
| Pepperoni Lover's Pizza (Stuffed Crust) Large | $16.99 |
| Pepperoni Lover's Pizza (Skinny Slice) Large | $14.99 |
| Meat Lover's Pizza (Hand-Tossed) Medium | $11.99 |
| Meat Lover's Pizza (Hand-Tossed) Large | $14.99 |
| Meat Lover's Pizza (Pan Pizza) Personal | $4.79 |
| Meat Lover's Pizza (Pan Pizza) Medium | $11.99 |
| Meat Lover's Pizza (Pan Pizza) Large | $14.99 |
| Meat Lover's Pizza (Thin N Crispy) Medium | $11.99 |
| Meat Lover's Pizza (Thin N Crispy) Large | $14.99 |
| Meat Lover's Pizza (Stuffed Crust) Large | $16.99 |
| Meat Lover's Pizza (Skinny Slice) Large | $14.99 |
| Ultimate Cheese Lover's Pizza (Hand-Tossed) Medium | $11.99 |
| Ultimate Cheese Lover's Pizza (Hand-Tossed) Large | $14.99 |
| Ultimate Cheese Lover's Pizza (Pan Pizza) Personal | $4.79 |
| Ultimate Cheese Lover's Pizza (Pan Pizza) Medium | $11.99 |
| Ultimate Cheese Lover's Pizza (Pan Pizza) Large | $14.99 |
| Ultimate Cheese Lover's Pizza (Thin N Crispy) Medium | $11.99 |
| Ultimate Cheese Lover's Pizza (Thin N Crispy) Large | $14.99 |
| Ultimate Cheese Lover's Pizza (Stuffed Crust) Large | $16.99 |
| Ultimate Cheese Lover's Pizza (Skinny Slice) Large | $14.99 |
| Veggie Lover's Pizza (Hand-Tossed) Medium | $11.99 |
| Veggie Lover's Pizza (Hand-Tossed) Large | $14.99 |
| Veggie Lover's Pizza (Pan Pizza) Personal | $4.79 |
| Veggie Lover's Pizza (Pan Pizza) Medium | $11.99 |
| Veggie Lover's Pizza (Pan Pizza) Large | $14.99 |
| Veggie Lover's Pizza (Thin N Crispy) Medium | $11.99 |
| Veggie Lover's Pizza (Thin N Crispy) Large | $14.99 |
| Veggie Lover's Pizza (Stuffed Crust) Large | $16.99 |
| Veggie Lover's Pizza (Skinny Slice) Large | $14.99 |
| Supreme Pizza (Hand-Tossed) Medium | $11.99 |
| Supreme Pizza (Hand-Tossed) Large | $14.99 |
| Supreme Pizza (Pan Pizza) Personal | $4.79 |
| Supreme Pizza (Pan Pizza) Medium | $11.99 |
| Supreme Pizza (Pan Pizza) Large | $14.99 |
| Supreme Pizza (Thin N Crispy) Medium | $11.99 |
| Supreme Pizza (Thin N Crispy) Large | $14.99 |
| Supreme Pizza (Stuffed Crust) Large | $16.99 |
| Supreme Pizza (Skinny Slice) Large | $14.99 |
| BBQ Lover's (Hand-Tossed) Medium | $11.99 |
| BBQ Lover's (Hand-Tossed) Large | $14.99 |
| BBQ Lover's (Pan Pizza) Personal | $4.79 |
| BBQ Lover's (Pan Pizza) Medium | $11.99 |
| BBQ Lover's (Pan Pizza) Large | $14.99 |
| BBQ Lover's (Thin N Crispy) Medium | $11.99 |
| BBQ Lover's (Thin N Crispy) Large | $14.99 |
| BBQ Lover's (Stuffed Crust) Large | $16.99 |
| BBQ Lover's (Skinny Slice) Large | $14.99 |
| Chicken Supreme Pizza (Hand-Tossed) Medium | $12.99 |
| Chicken Supreme Pizza (Hand-Tossed) Large | $15.99 |
| Chicken Supreme Pizza (Pan Pizza) Personal | $5.29 |
| Chicken Supreme Pizza (Pan Pizza) Medium | $12.99 |
| Chicken Supreme Pizza (Pan Pizza) Large | $15.99 |
| Chicken Supreme Pizza (Thin N Crispy) Medium | $12.99 |
| Chicken Supreme Pizza (Thin N Crispy) Large | $15.99 |
| Chicken Supreme Pizza (Stuffed Crust) Large | $17.99 |
| Chicken Supreme Pizza (Skinny Slice) Large | $15.99 |
| New Primo Meat Pizza (Hand-Tossed) Medium | $11.99 |
| New Primo Meat Pizza (Hand-Tossed) Large | $14.99 |
| New Primo Meat Pizza (Pan Pizza) Personal | $4.79 |
| New Primo Meat Pizza (Pan Pizza) Medium | $11.99 |
| New Primo Meat Pizza (Pan Pizza) Large | $14.99 |
| New Primo Meat Pizza (Thin N Crispy) Medium | $11.99 |
| New Primo Meat Pizza (Thin N Crispy) Large | $14.99 |
| New Primo Meat Pizza (Stuffed Crust) Large | $16.99 |
| New Primo Meat Pizza (Skinny Slice) Large | $14.99 |
| Hawaiian Luau (Hand-Tossed) Medium | $11.99 |
| Hawaiian Luau (Hand-Tossed) Large | $14.99 |
| Hawaiian Luau (Pan Pizza) Personal | $4.79 |
| Hawaiian Luau (Pan Pizza) Medium | $11.99 |
| Hawaiian Luau (Pan Pizza) Large | $14.99 |
| Hawaiian Luau (Thin N Crispy) Medium | $11.99 |
| Hawaiian Luau (Thin N Crispy) Large | $14.99 |
| Hawaiian Luau (Stuffed Crust) Large | $16.99 |
| Hawaiian Luau (Skinny Slice) Large | $14.99 |
| Super Supreme Pizza (Hand-Tossed) Medium | $12.99 |
| Super Supreme Pizza (Hand-Tossed) Large | $15.99 |
| Super Supreme Pizza (Pan Pizza) Personal | $5.29 |
| Super Supreme Pizza (Pan Pizza) Medium | $12.99 |
| Super Supreme Pizza (Pan Pizza) Large | $15.99 |
| Super Supreme Pizza (Thin N Crispy) Medium | $12.99 |
| Super Supreme Pizza (Thin N Crispy) Large | $15.99 |
| Super Supreme Pizza (Stuffed Crust) Large | $17.99 |
| Super Supreme Pizza (Skinny Slice) Large | $15.99 |
Skinny Pizza
| | |
| --- | --- |
| Skinny Beach (Skinny Slice) Large | $14.99 |
| Skinny With A Kick (Skinny Slice) Large | $14.99 |
| Skinny Italy (Skinny Slice) Large | $14.99 |
| Skinny Luau (Skinny Slice) Large | $14.99 |
| Skinny Club (Skinny Slice) Large | $14.99 |
Wings
| | |
| --- | --- |
| Breaded Bone-Out (Naked, Garlic Parmesan, Honey BBQ, Sweet Chili, Spicy BBQ, Honey Sriracha or Buffalo – Mild, Medium or Burnin' Hot) 8 Pc | $6.99 |
| Breaded Bone-Out (Naked, Garlic Parmesan, Honey BBQ, Sweet Chili, Spicy BBQ, Honey Sriracha or Buffalo – Mild, Medium or Burnin' Hot) 16 Pcs | $13.49 |
| Breaded Bone-Out (Naked, Garlic Parmesan, Honey BBQ, Sweet Chili, Spicy BBQ, Honey Sriracha or Buffalo – Mild, Medium or Burnin' Hot) 24 Pcs | $18.99 |
| Breaded Bone-Out (Naked, Garlic Parmesan, Honey BBQ, Sweet Chili, Spicy BBQ, Honey Sriracha or Buffalo – Mild, Medium or Burnin' Hot) 48 Pcs | $37.98 |
| Traditional Bone-In (Naked, Garlic Parmesan, Honey BBQ, Sweet Chili, Spicy BBQ, Honey Sriracha or Buffalo – Mild, Medium or Burnin' Hot) 8 Pcs | $6.99 |
| Traditional Bone-In (Naked, Garlic Parmesan, Honey BBQ, Sweet Chili, Spicy BBQ, Honey Sriracha or Buffalo – Mild, Medium or Burnin' Hot) 16 Pcs | $13.49 |
| Traditional Bone-In (Naked, Garlic Parmesan, Honey BBQ, Sweet Chili, Spicy BBQ, Honey Sriracha or Buffalo – Mild, Medium or Burnin' Hot) 24 Pcs | $18.99 |
| Traditional Bone-In (Naked, Garlic Parmesan, Honey BBQ, Sweet Chili, Spicy BBQ, Honey Sriracha or Buffalo – Mild, Medium or Burnin' Hot) 48 Pcs | $37.98 |
| Breaded Bone-In (Naked, Garlic Parmesan, Honey BBQ, Sweet Chili, Spicy BBQ, Honey Sriracha or Buffalo – Mild, Medium or Burnin' Hot) 8 Pcs | $4.80 |
| Breaded Bone-In (Naked, Garlic Parmesan, Honey BBQ, Sweet Chili, Spicy BBQ, Honey Sriracha or Buffalo – Mild, Medium or Burnin' Hot) 16 Pcs | $9.60 |
| Breaded Bone-In (Naked, Garlic Parmesan, Honey BBQ, Sweet Chili, Spicy BBQ, Honey Sriracha or Buffalo – Mild, Medium or Burnin' Hot) 24 Pcs | $14.40 |
| Breaded Bone-In (Naked, Garlic Parmesan, Honey BBQ, Sweet Chili, Spicy BBQ, Honey Sriracha or Buffalo – Mild, Medium or Burnin' Hot) 48 Pcs | $28.80 |
Pasta
| | |
| --- | --- |
| Tuscani Chicken Alfredo with Breadsticks | $7.99 |
| Tuscani Chicken Alfredo with Cheesesticks | $8.99 |
| Tuscani Meaty Marinara with Breadsticks | $7.99 |
| Tuscani Meaty Marinara with Cheesesticks | $8.99 |
Sides
| | |
| --- | --- |
| Breadsticks 5 Pcs | $5.99 |
| Cheese Sticks 5 Pcs | $5.29 |
| Fries (straight-cut, cajun-style, & ranch-seasoned) | $3.49 |
| Mozzarella Cheese Sticks | $4.49 |
| Jalapeños | $1.50 |
Desserts
| | |
| --- | --- |
| HERSHEY'S Toasted S'mores Cookie | $6.99 |
| HERSHEY'S Triple Chocolate Brownie 9 Pcs | $5.99 |
| The Ultimate HERSHEY'S Chocolate Chip Cookie | $5.99 |
| Cinnamon Sticks 5 Pcs | $4.49 |
| Apple Pies | $4.99 |
Sauces
| | |
| --- | --- |
| lue Cheese | $0.60 |
| Chocolate | $0.60 |
| Ranch | $0.60 |
| Garlic | $0.60 |
| Marinara | $0.60 |
| Icing | $0.60 |
| Classic Sauce Set 4 Pcs | $2.00 |
| Explore Sauce Set 5 Pcs | $2.50 |
Beverages
| | |
| --- | --- |
| Pepsi Bottle | $1.79 |
| Pepsi 2 Liter | $2.99 |
| Diet Pepsi Bottle | $1.79 |
| Diet Pepsi 2 Liter | $2.99 |
| Mountain Dew Bottle | $1.79 |
| Mountain Dew 2 Liter | $2.99 |
| Aquafina Bottle | $1.49 |
| Dr. Pepper 2 Liter | $2.99 |