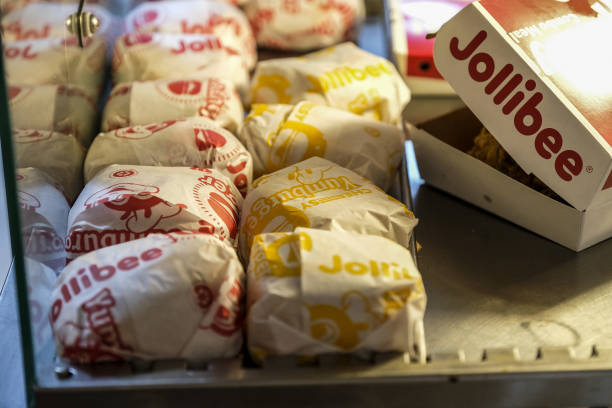 Jollibee is a worldwide Filipino fast-food restaurant company owned by Jollibee Foods Corporation (JFC).
JFC has over 1,500 Jollibee stores globally as of December 2021, with a presence in Southeast Asia, the Middle East, Hong Kong, North America, and Europe.
It is the biggest fast-food business in the Philippines, with over 750 locations countrywide.
Jollibee is the undisputed market leader in the Philippines, with a larger proportion of the local market than all other foreign brands combined.
In addition, the corporation has begun an ambitious worldwide growth strategy across many continents.
---
Related: Mary Brown's Menu Prices in Canada
---
Jollibee Menu Prices in Canada
Jollibee is known for its Filipino-style fried chicken and burgers, as well as spaghetti, hot dogs, and sandwiches.
Other Filipino staples on the menu include pancit palabok, halo-halo, chicken joy, and Jolly Spaghetti.
Jollibee established its first shop in Canada in 2016 in Scarborough Town Centre, situated at 300 Borough Drive in Toronto.
Jollibee has since built a location on Regent Avenue West in Winnipeg's Kildonan Place Shopping Centre.
The most recent site is on 137th Avenue Northwest in North Edmonton's Londonderry Mall.
Here are the latest Jollibee Menu Prices in Canada.
Popular Jollibee Menu Items
| | |
| --- | --- |
| 6 Pc Jolly Crispy Chicken Bucket | $17.61 |
| 10 Pc Jolly Crispy Chicken Bucket | $28.31 |
| Jolly Spaghetti | $5.89 |
| Jolly Crispy Chicken Bucket Treat B | $40.46 |
| Palabok Fiesta | $7.48 |
| 2 Pc Burger Steak with 1 Side | $7.45 |
| 2 Pc Jolly Crispy Chicken with 1 Side | $8.33 |
| 3 Pc Jolly Crispy Chicken with 1 Side | $10.53 |
| Jolly Spaghetti Family Pack | $16.96 |
| 1 Pc Jolly Crispy Chicken with Jolly Spaghetti | $8.33 |
| 3 Pc Jolly Crispy Chicken with 2 Sides | $11.63 |
Burger Steak Menu
| | |
| --- | --- |
| 2 Pc Burger Steak with 2 Sides | $8.55 |
| 3 Pc Burger Steak with 1 Side | $10.42 |
| 3 Pc Burger Steak with 2 Sides | $11.52 |
| Burger Steak Family Pack | $25.95 |
Jolly Spaghetti Menu
| | |
| --- | --- |
| Jolly Spaghetti Party Pack | $36.25 |
Jolly Crispy Chicken Menu
| | |
| --- | --- |
| 2 Pc Jolly Crispy Chicken w/ 1 Side | $9.76 |
| Jolly Crispy Chicken Bucket Treat A | $45.14 |
| 2 Pc Jolly Crispy Chicken w/ 2 Sides | $11.29 |
| Jolly Crispy Chicken Bucket Treat C | $44.19 |
| Jolly Crispy Chicken Bucket Treat D | $49.68 |
| 3 Pc Jolly Crispy Chicken w/ 1 Side | $12.64 |
| 2 Pc Jolly Crispy Chicken with 2 Sides | $9.43 |
| 3 Pc Jolly Crispy Chicken w/ 2 Sides | $14.17 |
| 1 Pc Jolly Crispy Chicken w/ Jolly Spaghetti | $9.76 |
| 1 Pc Jolly Crispy Chicken w/ Jolly Spaghetti and Drink | $11.30 |
| 1 Pc Jolly Crispy Chicken with Palabok Fiesta | $10.00 |
| 1 pc Jolly Crispy Chicken w/ Palabok Fiesta | $11.49 |
Family Bucket Treats Menu
| | |
| --- | --- |
| Jolly Crispy Chicken Family Deals 1 | $40.25 |
Sides Menu
| | |
| --- | --- |
| French Fries | $2.74 |
| Mashed Potatoes | $2.74 |
| Buttered Corn | $2.74 |
| Steamed Rice | $2.41 |
| Side of Gravy | $1.64 |
Yumburger Menu
| | |
| --- | --- |
| Yumburger | $4.27 |
| Cheesy Yumburger | $4.68 |
| Big Yumburger | $8.62 |
| Aloha Yumburger | $9.28 |
Palabok Fiesta Menu
| | |
| --- | --- |
| Palabok Fiesta Family Pack | $21.32 |
| Palabok Fiesta Party Pack | $55.07 |
Sides and Jolly Kids Meals Menu
| | |
| --- | --- |
| French Fries Regular | $3.44 |
| French Fries Large | $4.59 |
| Mashed Potatoes Regular | $3.44 |
| Mashed Potatoes Large | $4.59 |
| Kids Meal: 1pc Jolly Crispy Chicken with Rice and Drink | $6.31 |
| Kids Meal: Jolly Spaghetti with Drink | $6.31 |
| Kids Meal: Cheesy Yumburger, Small Fries, and Drink | $6.69 |
Chickenwich Menu
| | |
| --- | --- |
| Chickenwich | $6.89 |
| Original Chickenwich | $7.27 |
| Chickenwich Deluxe | $7.81 |
| Deluxe Chickenwich | $8.19 |
| Spicy Chickenwich Deluxe | $7.81 |
| Spicy Chickenwich | $7.08 |
| Spicy Deluxe Chickenwich | $8.19 |
Soda Menu
| | |
| --- | --- |
| 20 oz Diet Pepsi Bottle | $2.99 |
| 20 oz Pepsi Bottle | $2.99 |
Drinks and Desserts Menu
| | |
| --- | --- |
| Pepsi | $2.86 |
| Ube Pie | $3.44 |
| Diet Pepsi | $2.86 |
| Mug Root Beer | $2.86 |
| Mountain Dew | $2.86 |
Burgersteaks Menu
| | |
| --- | --- |
| 2 Pc Burger Steak w/ 1 Side | $9.57 |
| 2 Pc Burger Steak w/ 2 Sides | $11.11 |
| 3 Pc Burger Steak w/ 1 Side | $12.64 |
| 3 Pc Burger Steak w/ 2 Sides | $14.17 |