Is your living room looking a little bare? You may want to consider adding curtains to this room.
Curtains are a great way to add some style and colour to your living room without having to spend a ton of money.
Curtains are also the perfect home accessory for those who enjoy making their home look like the picture-perfect space that you see in magazines.
The right choice of curtain can bring together a living room design and turn it into a comfortable, pleasing place to spend time.
But the wrong choice can make a room look drab and uninviting, no matter how much time and money you've put into arranging the perfect layout and furniture.
Choosing curtains for your living room can be tricky, however.
There are so many different styles and designs available that it can be difficult to decide which curtains are right for your home.
In order to help you make the right decision, we have put together our top tips for choosing curtains for living rooms…
---
Related: How to Choose a Mattress in Canada
---
Tips for Choosing Curtains for Your Living Room
Choosing curtains for the living room is actually a major undertaking.
The living room is arguably the most important in the house.
It's where people come together to relax, entertain, and unwind.
It's where children do their homework and sometimes even sleep.
There are so many different types of curtains that it can seem overwhelming to make a choice.
To help you make the right choice, here is a list of things you should consider when choosing curtains for your living room.
1. Pay attention to colours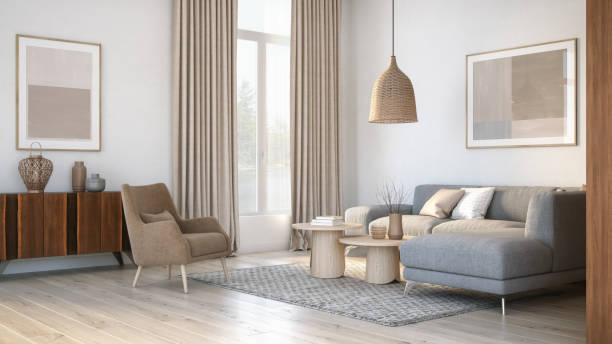 When you choose curtains for your living room, you, first of all, should pay attention to the colours.
The colour of the curtains must be in harmony with the whole interior. If your living room is small, it is recommended to choose light colours.
Rather, they should be not only light but also with a floral pattern, because such curtains will visually expand the space and make your living room more spacious and bright.
If there is no possibility to hang double curtains, then they can be replaced with blinds or roller blinds.
Curtains on windows play an important role in any interior as they harmonize and add functionality to the room.
Therefore it is important to choose them carefully and thoughtfully.
2. Consider your window size and shape
Another factor to consider when choosing curtains for living room windows is the length of the curtain.
Do you like them long, short, or somewhere in between?
If you have small children who play near your windows, longer curtains may be safer because they are less likely to get caught in the window sill.
It's also important to choose curtains that match the overall feel of your house.
For example, if you have a modern home with straight lines throughout, you probably wouldn't want floral-patterned curtains hanging in your living room.
3. Consider the design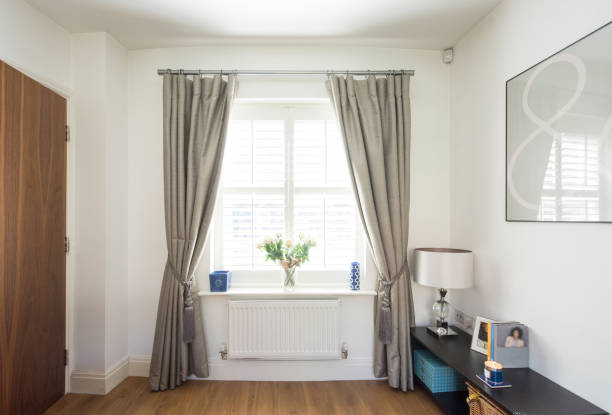 This is another crucial thing that you need to do before making any decision regarding the kind of curtains that you want for your living room.
If it already has a certain style, then you need to choose the curtains accordingly.
For example, if it has a modern style, then go with modern curtains and if it has a vintage look, then go with vintage ones.
You should also consider the colour scheme of this area and make sure that the colour of the curtain matches or complements it.
4. Consider the functionality
When you have a large window, you have the luxury of dressing it with a pair of full-length curtains.
But not just any drapes will do; you need to consider how they'll look when they are open, closed or somewhere in between.
You want them to be able to keep out light when they're closed and at the same time, not overpower the room.
What are your goals for your room? Do you want it to be a space that's private or is it more of an entertainment area where you want to showcase your design aesthetic?
If privacy is important, then go with curtains that fit on either side of the windows.
They'll help block out light when they are closed and give you the privacy you desire when they are open.
If you want to show off your fabulous custom curtains for the living room, then choose a length that extends down to the floor and add a valance across the top.
Valances can add extra height to your window and make it seem larger than it really is.
5. Choose curtains that go well with your existing décor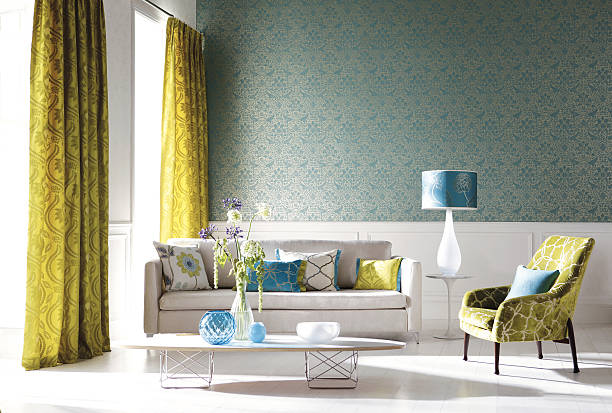 Your curtain panels will provide a stylish accent to the décor in your room, so you'll want to choose a fabric and colour that complements your existing room design.
As you look through our large selection of curtain panels, you'll find many options in a wide variety of colours and patterns.
If your walls are white or neutral and you have wooden furniture, choose curtain panels with paint that matches the colour of the wood.
For example, if your furniture is cherry red, consider choosing curtains with dashes of red and black.
If it's dark brown, select curtains that have hints of brown tones like coffee and chocolate.
When your furniture is dark wood, you also have the option of choosing ivory or off-white curtains for contrast without taking away from your décor.
If your room has white walls, choose drapery that enhances the colour of your furniture.
For example, if your sofa is burgundy, look for burgundy print curtain panels. If you have a cream-coloured sofa, consider purchasing tan drapery with hints of brown or gold accents.
You can also mix and match different coloured draperies to create a striped pattern on your windows.
6. Determine the length
The other step in deciding where to place your living room curtains is determining how long you want them to be.
The ideal length for your curtains depends on where you plan to hang them and what effect you want to achieve. Below are some tips:
Hang them at least 4 inches above the frame if you prefer a clean look that allows plenty of natural light into the room.
Hang them just below the ceiling if you have high ceilings and want an elegant look.
Hang them just above the floor or at floor-length if your living room has low ceilings and you prefer a cozy feel.
7. Select fabric-based material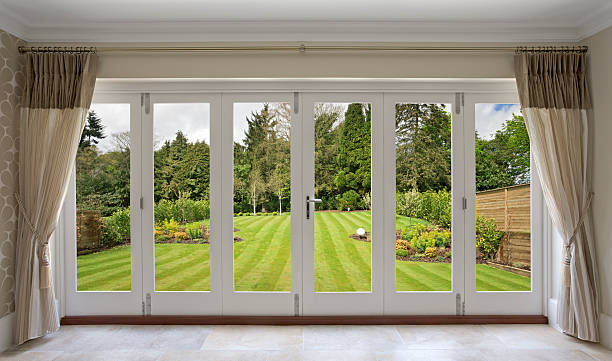 Curtains are made from a variety of fabrics, but the best living room curtains should be made from durable, light-filtering materials that complement your interior design.
Choose blackout curtains for increased privacy or use sheer curtains to let in more light.
Cotton is the most popular fabric for living room curtains because it is durable, soft and affordable.
Cotton curtains are available in a wide range of colours and patterns, making them easy to match with the other decor in your space.
Silk curtains offer a luxurious look and feel, but they are more expensive than cotton and polyester.
Silk collects dust easily and requires more frequent cleaning than other fabrics.
Faux silk curtains are made using polyester and rayon fibres that mimic the look of real silk without the high price tag.
Faux silk offers the same impressive sheen as real silk with an easier care routine.
Velvet is a popular choice for living room curtains because it provides full coverage while blocking out light completely.
Velvet is often heavier than other fabrics and tends to wrinkle easily, so these may need to be ironed regularly to maintain their look.
8. Machine Washable or Not
There are many fabrics to choose from when selecting curtains.
Each fabric has its own advantages and disadvantages, and there is no one perfect fabric for all situations.
Some fabrics are washable, while others should be dry cleaned. Certain fabrics are more durable than others.
Light filtering curtains are often made of a cotton/polyester blend.
These blends can be washed in the machine, but they will shrink and wrinkle unless treated with chemicals during manufacturing to make them resistant to shrinking and wrinkling.
Blackout curtains are usually made of polyester fabric, or sometimes of a cotton/polyester fabric that is treated with chemicals to reduce shrinking and wrinkling.
Blackout curtains will not allow 100 percent of the light into the room, so you need to take that into account when deciding whether blackout curtains are right for you.
Bottom Line
So there you have it, a basic guide for choosing curtains for your home.
Whatever you choose, your room will look amazing when finished, and bring out the best in your living room!
The options are endless, so have fun choosing which curtains work for you and your home.
And if this article has inspired you to go shopping and find the perfect curtains.