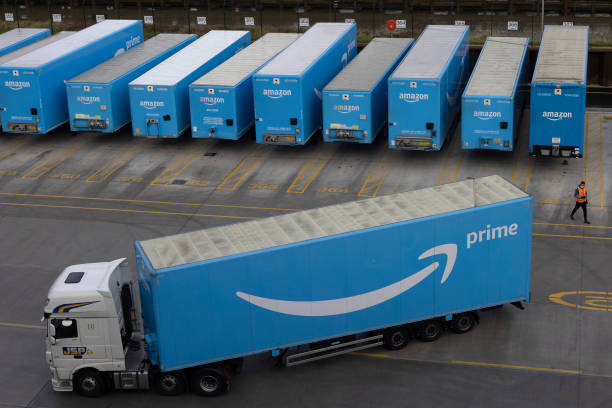 Amazon is an American multinational technology company based in Seattle that focuses on e-commerce, cloud computing, digital streaming, and artificial intelligence.
It is considered one of the Big Four tech companies along with Google, Apple, and Facebook.
Amazon is known for its disruption of well-established industries through technological innovation and mass scale.
It is the world's largest e-commerce marketplace, AI assistant provider, live-streaming platform, and cloud computing platform as measured by revenue and market capitalization.
Amazon is the largest Internet company by revenue in the world.
It is the second-largest private employer in the United States and one of the world's most valuable companies.
What is Amazon Prime
Amazon Prime is a membership program that gives customers access to services that would otherwise be unavailable or cost extra.
These include free two-day shipping and same-day delivery on eligible items, as well as discounts on other shipping methods.
The program also includes access to streaming video and music services, reading benefits, and other perks.
Amazon Prime Price in Canada
Amazon Prime is a paid subscription service offered by Amazon that gives users access to services that would otherwise be unavailable, or cost extra, to the typical Amazon customer.
This includes free two-day delivery, streaming music, and video, and other benefits.
1. 30 Days FREE Trial
If you're not a prime member yet and are looking to get in on all of those goodies, now's your chance.
Amazon is offering new members 30 days of FREE Prime membership with no obligations – cancel anytime before 30 days are up if you decide it's not worth the money to you.
This is only available for new members and if it seems too good to be true.
Amazon Prime Free Trial members enjoy all the same benefits as paid members. To sign up for the Amazon Prime free trial, your account must have a current, valid credit card.
Payment options such as an Amazon.com Corporate Line of Credit, checking accounts, pre-paid credit cards, or gift cards cannot be used.
2. $7.99 Monthly Subscription
Amazon Prime Canada is a monthly subscription that comes with a fee of $7.99 per month, plus taxes.
As a Prime member, you can stream over 1 million songs ad-free, listen on any Echo device, and take your music anywhere with offline listening.
You also get unlimited access to millions of movies and TV episodes from Prime Video and Amazon Original Movies.
Not available in Quebec or where otherwise prohibited by law.
3. $79 Yearly Subscription
Amazon Prime is a yearly subscription that comes with a fee of $79, plus taxes. In exchange for your subscription fee, you get access to shipping discounts on millions of items, stream movies and TV shows, e-books, and much more.
You can also participate in Kindle First where each month Amazon will have six books that you choose one free before they are released to everyone else.
Another cool perk if you like music is Prime Music which allows you to listen to unlimited ad-free music on any device with an Alexa-enabled speaker or Echo device.
4. $3.99 Student Monthly Subscription
If you're an Amazon Prime student after your trial ends your membership will upgrade to Amazon Prime for 50% off. You'll only pay $3.99 per year (and no additional fees).
The student membership will be automatically renewed unless canceled before each renewal date
5. $39 Student Yearly Subscription
Amazon Prime Canada student subscription comes with a fee of $39 (50% off) per year when your trial ends.
If you're a student with a valid .edu email address, you can subscribe to Amazon Prime for half-price!
If you're eligible, it's worth signing up. What's more, members get exclusive discounts on select products including electronics, household goods, and clothing.
Prime Student members receive many of the same perks as regular Prime members, including free two-day shipping and access to over a million songs, movies, TV shows, and ebooks on Prime Music, Prime Video, and Prime Reading, as well as unlimited photo storage through Prime Photos.
Benefits of Amazon Prime in Canada
1. Free TWO-DAY Shipping
One of the best things about Amazon Prime Canada is free two-day shipping on millions of eligible items.
This means you can shop online and your order will arrive at your doorstep in just two days.
No more worrying about how much it will cost to ship your purchases to Canada or wait weeks to receive them.
Most items are also eligible for free same-day delivery if you live in select metropolitan areas across Canada
2. Unlimited Music Streaming
Amazon Prime has partnered with several record labels to offer more than a million songs to stream for free on your mobile device or computer.
If you're an Amazon Prime member in Canada, you can stream over a million songs and thousands of playlists and stations without paying any extra fees.
To access your music, simply download the Amazon Music player online or use the Amazon Music app.
You can search for artists, albums, and songs to listen to. You can even create personalized stations based on your favorite artists!
3. Amazon Prime Reading
Prime Reading is a benefit of having an Amazon Prime membership and gives you access to a rotating selection of over 1,000 books and magazines, including some bestsellers.
Items are available on compatible devices with the free Kindle reading app installed.
You can also access Prime Reading through your computer's browser and save items to read later offline.
4. Amazon Prime Video
Your Amazon Prime membership comes with a host of benefits, including unlimited access to the full library of video content on Amazon Prime Video.
Amazon Prime Video Canada includes thousands of movies and television shows that you can watch on your computer, tablet, or compatible TV.
Unlimited Amazon Prime Video lets members watch movies and TV shows including award-winning dramas and comedies, international films, documentaries, and more.
You get access to all this content as part of your Amazon Prime subscription. It's an added value that comes with the free shipping and other perks you get with Prime.
5. Free Unlimited Photo Storage
With Prime, you can keep all your family memories safe in Amazon Drive which automatically backs up all-new photos taken on your tablet or phone as long as it is synced to the app. This includes photos with Family Vault.
You'll also be able to access any videos uploaded to Amazon Drive, making it easy to share those fun moments with family and friends.
5. Amazon Fresh
Amazon Fresh offers same-day delivery and pickup options on a variety of grocery items, so Prime members can order perishable and nonperishable food at the same time without paying more for each item.
Customers can create shopping lists and add items to their cart from any device using the Amazon app, then choose either same-day delivery or pickup at checkout.