---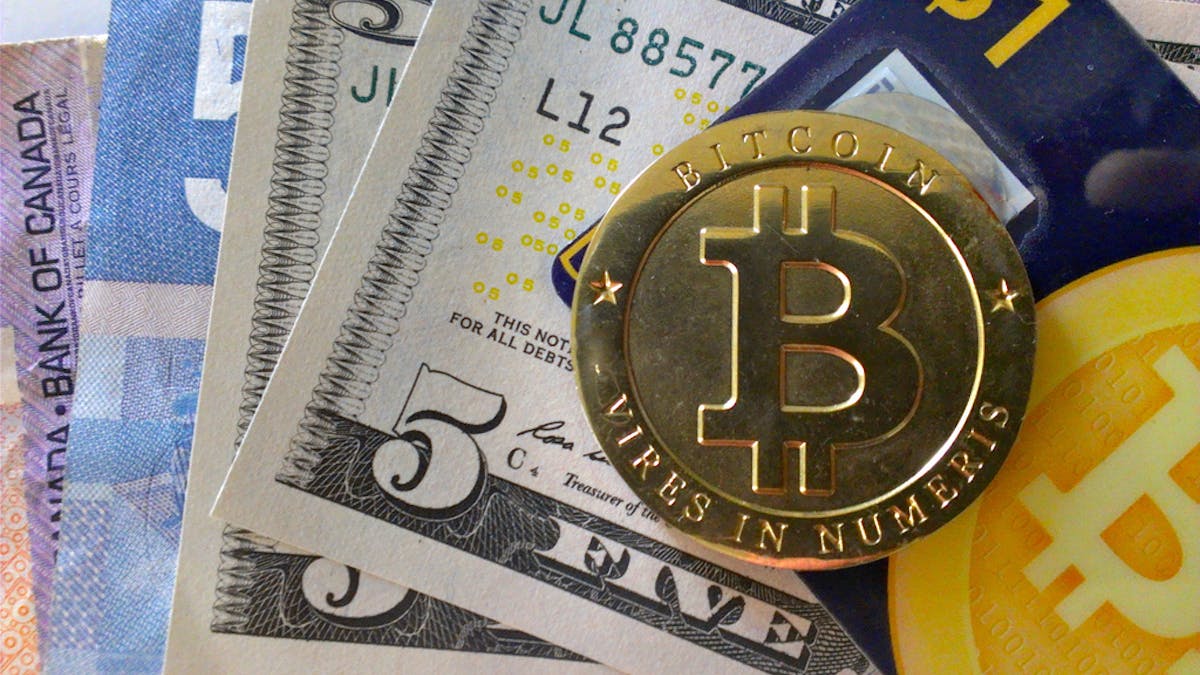 Bitcoin is a digital currency (also called crypto-currency) that is not backed by any country's central bank or government.
Bitcoins can be traded for goods or services with vendors who accept Bitcoins as payment.
Bitcoin is a decentralized peer-to-peer internet currency making mobile payment easy, has very low transaction fees, protects your identity, and works anywhere all the time with no banking hours.
The reason it works this way is that there are hundreds of computers around the world that are connected to the bitcoin network, and they all work together to verify each transaction that occurs.
Bitcoin Price Canada
---
Bitcoin's price is notorious for being incredibly unpredictable, yet despite this, it has been the best performing asset of any type (including equities, commodities, and bonds) during the last decade, rising 9,000,000 percent between 2010 and 2020.
When Satoshi Nakamoto mined the bitcoin genesis block (the first-ever block on the Bitcoin blockchain) at the beginning of 2009, 50 BTC entered circulation at a price of $0.00.
Fifty bitcoin entered circulation with each block (made once every 10 minutes) until the first halving event in November 2012.
Bitcoin's issuance scheme, which Satoshi Nakamoto encoded into the Bitcoin code, is referred to as halvings. Every 210,000 blocks, the number of fresh BTC entering circulation is automatically cut in half.
BTC's price hit parity with the US dollar for the first time in February 2011. The achievement enticed additional investors into the market, and bitcoin's price rose steadily over the following four months, reaching well over $30.
By early 2013, the dominant cryptocurrency had rebounded from an extended negative period and briefly surpassed $1,000.
However, due to the infamous Mt Gox breach, China's initial crypto ban, and other factors, it took another four years for the BTC price to rise beyond $1,000.
However, after that milestone was breached, bitcoin's price skyrocketed throughout 2017, eventually reaching its previous all-time high of $19,850.
Over the course of 2018, the whole cryptocurrency market entered what is now known as the "crypto winter" — a year-long bear market.
It wasn't until December 2020, when bitcoin returned to challenge the previous all-time high, that it finally eclipsed it, rising 239 percent over the next 119 days to a new all-time high of $64,799.
How to Buy Bitcoin in Canada? – A Quick Guide
Purchasing Bitcoin in Canada can be a long process, but it is worth it. Bitcoin offers Canadians the ability to make purchases without paying transaction fees (or you can earn money by charging a small fee for your own transactions).
It also gives users more privacy than existing payment methods such as credit cards or PayPal. But before getting started purchasing Bitcoin, there are some things that need to be done first.
The first thing you will need is a wallet. A wallet is where your Bitcoins will be stored so that they are easy to access and use. There are many different types of wallets available online, but one of the best is Electrum.
You also need to obtain an exchange account, which will allow you to purchase or sell Bitcoins in real-time at any of their trading platforms.
The most popular exchanges are Bitfinex, Kraken, and GDAX (formerly known as Coinbase). Other exchanges include Kraken and Bitstamp.
Once you have obtained an exchange account and set up your wallet (see below), you can begin purchasing Bitcoin in Canada!
Step 1: Register for a BitBuy account.
You must first create an account with BitBuy by clicking on the 'Get Started' button on the homepage. Enter your personal information when requested.
Before you can buy cryptocurrencies with Canadian dollars, you must first give some identification.
Step 2: Make a CAD deposit.
Following that, you will have the option of quickly depositing Canadian dollars using a debit or credit card.
Choose your favorite third-party payment source, input your credit card information, and tell BitBuy how much you want to deposit.
Step 3: Look for Cryptocurrency.
BitBuy supports a broad range of markets; nevertheless, you may use the search box to locate the cryptocurrency that you want to buy today.
Step 4: Purchase Cryptocurrency
Finally, you'll need to establish a basic purchase order, in which you'll input the amount of money you want to bet on your chosen cryptocurrency.
The digital tokens will be shown in your BitBuy online wallet once you confirm the order.
Where to Buy Bitcoin in Canada
1. BitBuy
Bitbuy is a popular Canadian crypto exchange that offers three trading platforms: Pro, Express and Institutional. The platform was founded in 2013 by Adam Goldman and Ademar Gonzalez.
Bitbuy also offers registered accounts that allow users to hold their cryptocurrencies as investments with tax-deferred growth. Accounts are available to both individual and institutional investors.
Bitbuy has a wide range of payment methods, including bank wire transfers, e-transfers and Interac e-Transfers. Trading fees follow the maker-taker model, with the lowest fee being 0.10% for market makers and 0.20% for market takers on the Express trade platform.
2. Crypto.com
Crypto.com is a massively popular exchange that provides a slew of crypto-related services. Support for over 250 digital currencies – all of which can be purchased with fiat money – is at the forefront of this. Using a debit or credit card is perhaps the simplest way to acquire bitcoin in Canada through the site.
This is due to the fact that your investment will be handled immediately once you have opened an account and submitted a copy of your ID. Crypto.com imposes a fee of 2.99 percent on debit/credit card payments. Transferring funds from your bank account is a more cost-effective, if slower, method.
3. Binance
Binance has continued to surpass new milestones since its inception in 2017.
The exchange not only has the most trading volume, liquidity, and registered users — but its native BNB coin is now a multi-billion dollar asset class.
You may also purchase cryptocurrencies in Canada using a number of payment options if you choose Binance as your go-to exchange.
You can, for example, deposit Canadian dollars via a local bank transfer or a Visa/MasterCard.
Both of these payment methods will need a fast KYC process to validate your identification.
4. CoinSmart
CoinSmart is a Canadian cryptocurrency exchange that trades on the NEO stock market under the ticker SMRT as of November 2021.
The platform allows you to purchase not only Bitcoins but also a number of other cryptocurrencies.
It distinguishes itself by providing a simple interface for newcomers as well as a wide range of payment options such as Interac transfers, credit cards, and bank transfers.
Coinsmart charges 0.2 percent for Bitcoin transactions and 0.3 percent for all other transactions.
5. MyBTC.ca
MyBTC.ca, a Canadian cryptocurrency exchange, is more of an online Bitcoin ATM than a trading platform.
Unlike other Canadian cryptocurrency exchanges, MyBTC.ca only allows you to purchase one cryptocurrency: Bitcoin.
Furthermore, because the exchange lacks a cryptocurrency wallet, Bitcoins acquired on the exchange are automatically transferred to your external wallet.
The platform additionally distinguishes itself by accepting a wide range of payment options, including Interac transfers, credit cards, and even cash by purchasing Flexepin coupons, which are available at over 4000 locations throughout Canada.
As a result, this site is usually utilized by investors who want to purchase Bitcoins in order to trade them on platforms that do not take Canadian dollars.
MyBTC.ca does not charge transaction fees, however, it does charge a somewhat high deposit fee that ranges from 7.75 percent for Interac transfers to 9.75 percent for credit card payments.
6. Shakepay
Shakepay is a mobile cryptocurrency trading software that only supports two cryptocurrencies: Bitcoin and Ether.
There are no deposit or withdrawal fees, nor are there any transaction fees at the crypto exchange. Of course, nothing in life is free, and Shakepay is no exception to the norm.
In actuality, Shakepay, like other exchanges, derives money by marking up the buying price of cryptocurrencies by roughly 1%.
7. Coinbase
Coinbase is a cryptocurrency exchange and broker established in the United States that now has tens of millions of client accounts. Coinbase has subsequently extended into the Canadian market, in addition to a number of other territories. As a result, Coinbase is a simple way to acquire bitcoin online.
Coinbase's target demographic is beginners, as seen by the platform's simple look and minimal investing offerings. Furthermore, the procedure of creating an account and getting oneself verified is simple.
Furthermore, if you have a Coinbase account, you will have access to over 50 cryptocurrency marketplaces.
Having said that, we should emphasize that the platform is pricey in most aspects of the Coinbase website. Standard commissions of 1.49 percent, for example, are levied. Furthermore, if you want to buy cryptocurrencies using your Visa or MasterCard, expect to spend roughly 4% in fees.
8. Netcoins
Netcoins, which was founded in Vancouver in 2014, is one of the country's earliest cryptocurrency exchanges. Netcoins does not charge any deposit or withdrawal fees, but it does charge a 0.5 percent buy and sell transaction fee, which is in addition to the 1 percent markup on the sale price of cryptos.
Is Bitcoin Legal in Canada?
Bitcoin is a lawful digital currency in Canada. There are no laws in Canada that restrict the use of Bitcoin, as well as its alternatives, Ethereum and Litecoin. This also includes other digital currencies that have emerged in the past few years.
Canadian citizens are free to use cryptocurrencies to buy goods and services on the internet and in stores, provided sellers accept these payment methods. Canadians can also trade Bitcoin for profit or buy cryptocurrency as an investment.
According to the 2014 federal budget statement, "Canada does not consider virtual currencies to be legal tender." This means that businesses that accept Bitcoin payments aren't legally bound to issue refunds.
The value of cryptocurrencies fluctuates wildly, so it's up to both parties to decide on a fair price at the time of purchase.